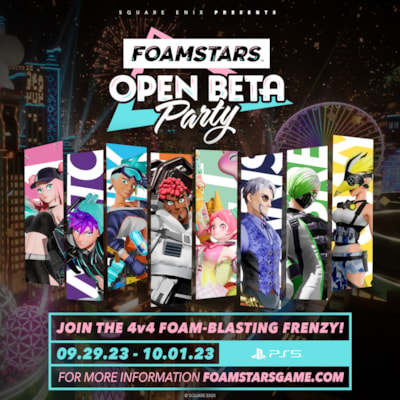 LOS ANGELES (Sept. 14, 2023) – SQUARE ENIX® has announced a playable worldwide open beta for FOAMSTARS™, its brand-new foam party shooter exclusive to PlayStation, which will commence on September 29. Revealed during today's State of Play broadcast, the "FOAMSTARS OPEN BETA PARTY" invites PlayStation 5 players to experience this over-the-top, chaotically foamy competitive shooter in advance of its official early 2024 release. Access to the beta is free and available to download from the PlayStation™ Store when live.
As a thank you to every player who takes part in the open beta, an exclusive cosmetic item for the character Soa will be given upon downloading the full game at launch.
Check out the new "FOAMSTARS OPEN BETA PARTY" trailer here:
https://youtu.be/PBwNNs99NDU

"FOAMSTARS OPEN BETA PARTY" weekend schedule:
Friday, September 29 @ 6pm PDT – Sunday, October 1 @ 11.59pm PDT

How to join the beta:
Download the "FOAMSTARS OPEN BETA PARTY" game software via the PlayStation Store and launch the game on a PlayStation 5 console during the event period to participate for free. A PlayStation Plus subscription is not required to join the open beta.

More about the "FOAMSTARS OPEN BETA PARTY":
FOAMSTARS puts players in the vibrant world of Bath Vegas, a gorgeous and bubbly metropolis, and the setting for the world's biggest foam party! FOAMSTARS blasts players into the ultimate, over-the-top online shooter, that pits teams of up to 4 against each other in an easily accessible gameplay experience using foam! Prepare to experience a fraction of what FOAMSTARS has to offer, while simultaneously testing the capabilities of our servers ahead of the game's upcoming launch in 2024.

In the upcoming "FOAMSTARS OPEN BETA PARTY", players will experience two different 4-v-4 game modes and choose from eight diverse and vibrant characters, each with their own play style, specialist weapons, and unique game-changing skills. With foam as each challenger's weapon of choice, players must master the game's foam traversal and construction mechanics to build, block and overpower their competitors to achieve victory.

The playable characters are:
Soa, ΔGITO, Tonix, Jet Justice, Mel T, The Baristador, Rave Breaker, and Pen Gwyn.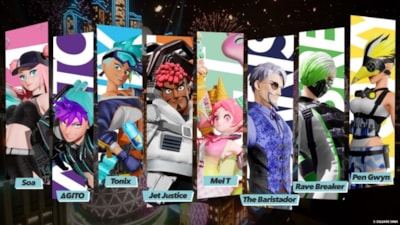 The two game modes are:
"SMASH THE STAR": Compete in a frantic battle where the winning strategy changes as the match progresses. In "SMASH THE STAR", each team must battle it out to secure seven knockouts on the opposing team. Once this is achieved, the best player is chosen to be the "Star Player" and becomes the key to victory! To win the match, teams must defeat the opposing team's "Star Player" while also protecting their own!
"HAPPY BATH SURVIVAL": A battle between two teams comprised of two "infield" players and two "outfield" players. Victory is earned by defeating both opponent "infield" players, while "outfield" players support and provide defense for their teammates!

Composer and character art design teams revealed:
Today's news rounds off by revealing the in-game music is composed by MONACA, and character design is created by the illustrator team, Gurihiru.

MONACA is a music production company established in 2004 by Keiichi Okabe, which has extensive production experience in music for games, anime, drama, and film productions. Highlights include the NieR series and SINoALICE. While Gurihiru is a freelance illustrator unit consisting of artist Sasaki and colorist Kawano. They hail from Hokkaido, Japan and have worked extensively in Japan, designing characters for games and anime, and illustrating for books. Major comic works include "It's Jeff", "Gwenpool", "Superman Smashes the Klan" and more.

For the latest FOAMSTARS assets, please visit the press site: https://press.na.square-enix.com/FOAMSTARS

For more details on the "FOAMSTARS OPEN BETA PARTY", please visit: https://foamstars.square-enix-games.com/en-us/.

Related Links:
Official Website: https://foamstars.square-enix-games.com/en-us/
X: https://twitter.com/foamstarsgame
Facebook: https://www.facebook.com/SquareEnix
YouTube: https://www.youtube.com/user/SQEXMembersNA
Instagram: https://www.instagram.com/foamstarsgame/
#FOAMSTARS

About Square Enix, Inc.
Square Enix, Inc. develops, publishes, distributes, and licenses SQUARE ENIX® and TAITO® branded entertainment content throughout the Americas as part of the Square Enix group of companies. The Square Enix group of companies boasts a valuable portfolio of intellectual property including: FINAL FANTASY®, which has sold over 180 million units worldwide; DRAGON QUEST®, which has sold over 88 million units worldwide; and the legendary SPACE INVADERS®. Square Enix, Inc. is a U.S.-based, wholly owned subsidiary of Square Enix Holdings Co., Ltd.

More information on Square Enix, Inc. can be found at https://square-enix-games.com
###